Na? Habt ihr euch schon gefragt, wann es das nächste einfache und gesunde Rezept hier gibt? HEUTE :D
Um das ganze ein bisschen aufzulockern, habe ich die einzelnen Schritte für euch fotografiert, um eine Art Tutorial zu erstellen. Ich hoffe, es gefällt euch!
Hey there! I bet you were wondering, when the next easy and healthy recipe is coming!? TODAY :D
I tried to make it less monotonous and took a picture of every step, creating a sort of tutorial. I hope, you like it!
4 Portionen | 4 Servings
300g Hühnerbrustfilet in kleine Stücke schneiden.
Cut 300g of chicken breast in small bits.
Salz, Pfeffer, Knoblauch, salzige Sojasauce, ein winziger Klecks Honig und kleingehackte Pepperoni bilden eine leichte Marinade.
Mix salt, pepper, garlic, salty soy sauce, a teeny tiny bit of honey and a chopped chili for a light marinade.
Das Fleisch und die Marinade in eine Schüssel mit Deckel geben, gut schütteln und für mindestens eine halbe Stunde in den Kühlschrank stellen. Zwischendurch immer wieder mal schütteln. (Bei mir waren es ca 3 Stunden, ich schüttel dann alle 30 Minuten).
Fill marinade and meat in a bowl with cap, shake well and put it into the fridge for at least 30 minutes, keep shaking now and then. I left it there for about 3 hours and shook the mixture like every 30 minutes.
In der Zwischenzeit
ca 200g Nudeln
(Rohgewicht) nach Packungsangaben kochen. Ich bevorzuge es, meine Beilagen in Gemüsebrühe zu kochen.
In the meantime cook about 200g noodles (gross weight) like recommended. I prefer cooking them in vegetable broth.
Eine Paprika und eine mittelgroße Zwiebel
putzen und in mundgerechte Stücke schneiden.
Clean one bell pepper and one medium sized onion and cut bite-sized.
Das Hühnchen in einer heißen Pfanne anbraten. Man braucht kein Fett dazugeben!
Fry the chicken in a hot frying pan. No need to add oil!
Wenn das Fleisch rundum angebraten ist, kann man das Gemüse dazugeben.
When the meat is browned all around, add onion and bell pepper at the same time.
Sobald die Zwiebeln glasig werden,
eine Dose Champignons
abgießen und in die Pfanne geben.
Once the onions start getting translucent, drain one can of champignons and add to the rest.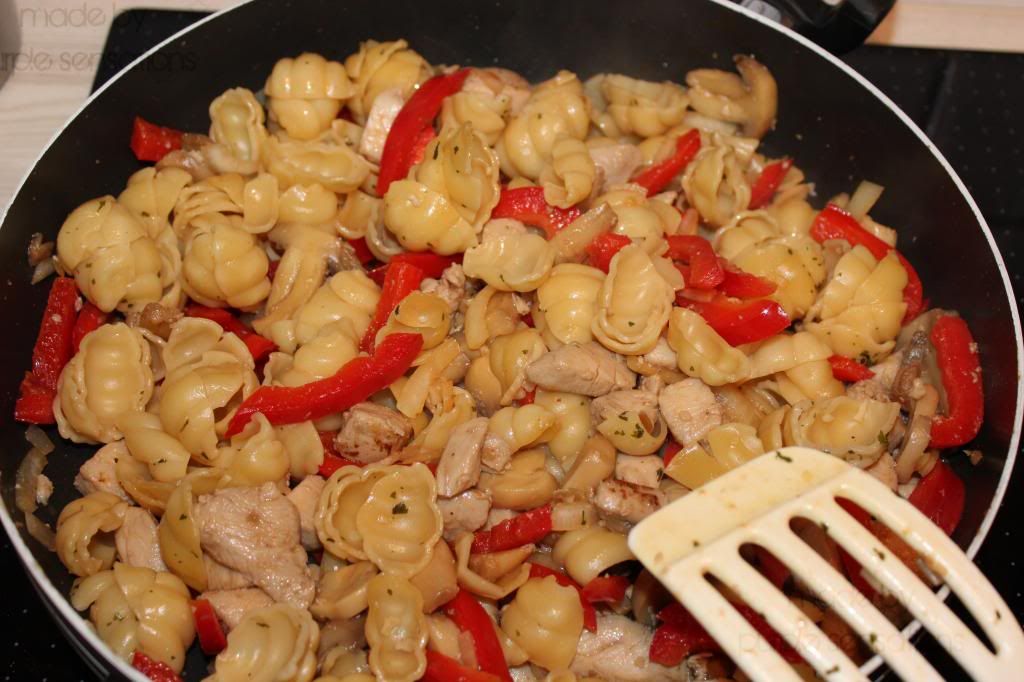 Wenn die Paprika den gewünschten Gargrad fast erreicht hat, kann man die Nudeln mit dazugeben und wiedererhitzen.
When the bell pepper is almost done, you can add the noodles and reheat them.
Zum Schluss
eine Dose Pizzatomaten
hinzufügen. In diesem Fall war es "stückig-scharf" von Oro di Parma.
Finally pour one can of tomatoes. In this case I chose "chunky - hot".
Nur noch mit ein wenig
Kräutern der Provence
bestreuen und servieren :)
Dredge some Provençal herbs, serve :)
Ich bin mir völlig bewusst, dass das jetzt mal gar nichts mehr mit vegetarisch oder Low Carb zu tun hat. Es ist aber ein tolles Gericht, wenn man bei Weight Watchers ist. Wer Bescheid weiß, weiß, dass man hier ohne auf die Menge achten zu müssen, so viel essen kann wie man will, für eine Handvoll Punkte! Perfektes Abendessen also, wenn man den Großteil seiner Punkte schon aufgebraucht hat.
Die Vegetarier unter euch werden bestimmt einen Ersatz für das Hühnchen finden, ich kenne mich da nicht so aus ;)
I am fully aware that this is neither veggie nor low carb. But it's a percect dish for weight watchers. I you know something about it, you might know, that you can eat as much as you like from this dish for a handful of points. So this is a perfect dinner, when you have used most of your daily points.
Vegetarians will find a good substitute for the chicken, I don't know anything about that ;)